Most Australian capital cities likely to set new house price records: Domain forecasts
House prices in most Australian capital cities are set to hit new records this year as home buyers take advantage of very low interest rates, a new forecast shows.
Sydney house prices are likely to jump 10 per cent to a whopping $1.25 million median by the end of the year, Domain's Property Price Forecasts – February 2020 show.
This would be the fastest growth of any capital city and take prices to 5 per cent above their previous peak, recorded in June 2017.
Melbourne house prices are expected to gain 8 per cent this year to a record $970,000 and then keep rising to reach a median of $1 million before the end of next year.
Records are also tipped to tumble in Brisbane (up 8 per cent in 2020), Canberra (up 4 per cent), Hobart (up 3 per cent) and Adelaide (up 3 per cent).
"Price growth is likely to be much stronger than I, and almost everyone else thought, even six months ago," Domain economist Trent Wiltshire said.
"People thought there would be a rebound, but not this rapid and also perhaps not as widespread.
"It's not just a Sydney and Melbourne story."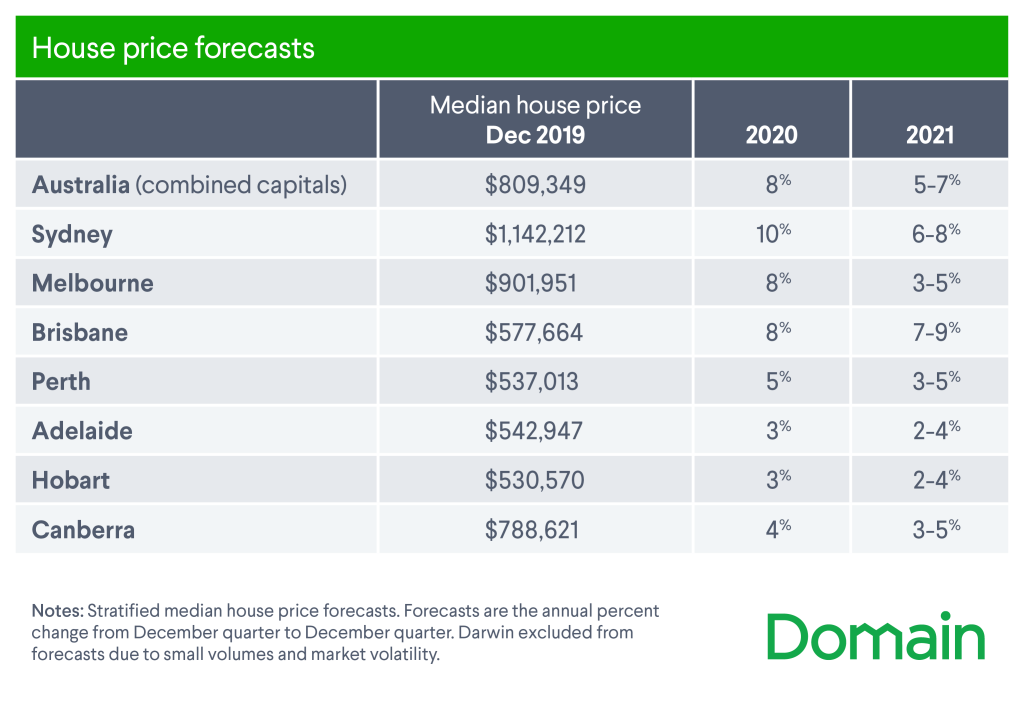 A year ago, major housing markets were in a downturn, with prices falling and home owners hesitant to sell.
But three cuts to interest rates last year, combined with the clear May federal election result, sparked a sharp turnaround.
"People have realised this low interest rate environment is going to be around for a while now," Mr Wiltshire said.
"People are taking out loans with that in mind."
The value of new home loans rose 4.4 per cent in December, separate figures released by the Australian Bureau of Statistics on Tuesday showed.
Since May, the value of loans to first-home buyers has risen 26 per cent, while loans to upgraders have risen 21 per cent, a Westpac analysis of the figures showed.
If the amount of money lent to homebuyers continues to rise, there will be "significant" house price rises over the next year, Mr Wiltshire said.
Rapidly rising prices have again raised the issue of housing affordability, which became a white-hot issue in the nation's two largest cities at the peak of the last house price boom.
During the subsequent downturn, affordability appeared to be improving, Mr Wiltshire said.
"But with this rapid rebound, and likely continued price growth, housing affordability problems have returned," he said.
"That will return as a big issue in the year ahead."
For those who already own their homes, he added that affordability has become somewhat easier as interest rates stay low.
Other factors set to boost housing prices include strong population growth, a slowdown in new housing construction, relatively few homes being listed for sale and rising sentiment, he said. At the same time, the federal government's First Home Loan Deposit Scheme could also contribute to price rises.
The forecasts assume one more interest rate cut this year, an unemployment rate of about 5 per cent and national population growth of 1.6 per cent a year.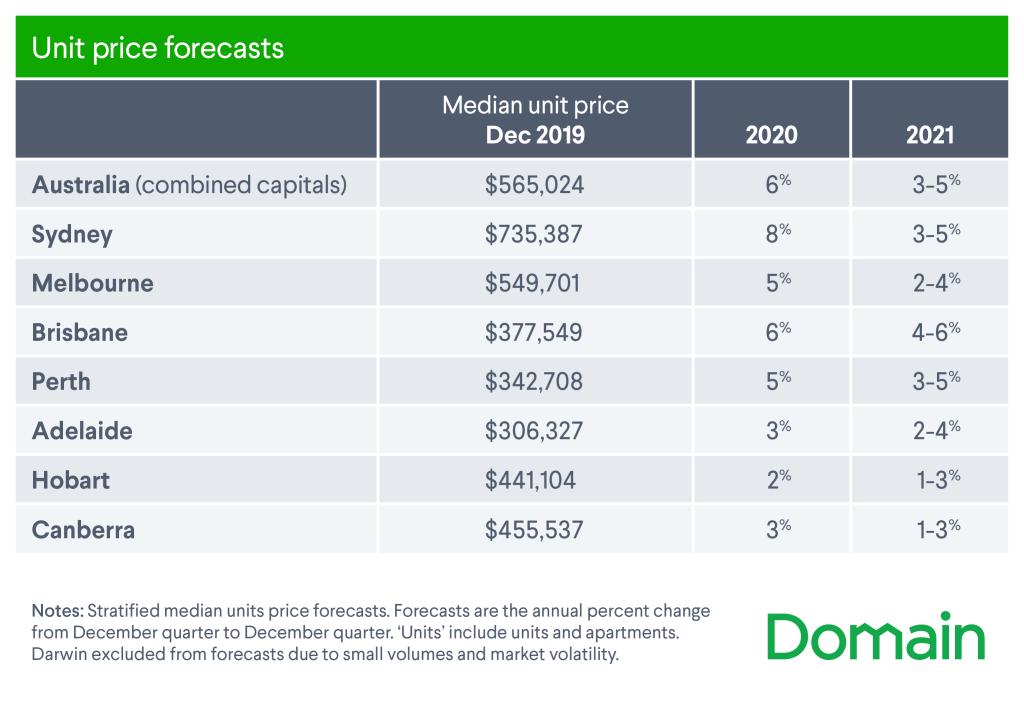 Sydney
House prices in the NSW capital are forecast to rise 10 per cent in 2020 to $1.25 million, with more modest growth of about 6 to 8 per cent the following year.
Units are tipped to gain 8 per cent this year to $795,000 and 3 to 5 per cent the year after.
Auction clearance rates remain high, as does interest from buyers, Mr Wiltshire said.
Fewer new apartments are set to be built, which could push up unit prices – although construction could pick up again in 2021.
Melbourne
Melbourne's median house price is expected to reach the $1 million mark by the second half of 2021.
House prices are likely to rise by 8 per cent this year to $970,000, then by 3 to 5 per cent in 2021.
Unit prices should gain 5 per cent in 2020, then 3 per cent the next year.
The Victorian capital's booming population is expected to create demand for housing.
Brisbane
Brisbane house prices are heading for substantial price rises after a period of little price growth.
This year the median house price is set to rise 8 per cent, followed by 7 to 9 per cent the year after.
Units are expected to add 6 per cent this year, then 4 to 6 per cent the year after.
Brisbane has seen a wave of new apartment construction in recent years, but this is about to reach a low point, as unit prices have bottomed out, according to the report.
Canberra
In the national capital, house prices are likely to rise by 4 per cent this year to about $820,000, then by another 3 to 5 per cent the year after.
Units will still get more expensive but at a slightly slower pace, with gains of 3 per cent this year then 1 to 3 per cent next year in store.
Population growth is likely to remain strong over the next few years, while buyer interest has been picking up and is tipped to support prices.
Perth
The housing market in resources-dependent Perth has been in a downturn for some time, but this looks set to end this year.
House and unit prices are both set to grow by 5 per cent this year, then by 3 to 5 per cent next year, the report predicts.
It's one of the few cities not likely to set a new record soon, with the median house price expected to be $564,000 by the end of the year – still 8 per cent lower than the peak in December 2014.
As the mining sector and local economy pick up, and population growth rises, buyer interest is growing.
Hobart
Prices in Hobart boomed by more than 50 per cent in the four years to 2019 as mainland buyers looked beyond their pricey capitals to the Apple Isle's more affordable properties.
Although the boom is likely to end, prices should still eke out gains, nudging the city to another record.
Hobart houses are set to rise by 3 per cent this year and by 2 to 4 per cent next year, while units are expected to add 2 per cent in 2020 and 1 to 3 per cent the year after.
A gentle price correction could follow as population growth slows, the report said.
Adelaide
Growth has been steady in Adelaide over the past five years, and modest rises are set to continue.
House prices are likely to add 3 per cent this year and 2 to 4 per cent next year, with units to lift at the same pace.
Population growth is modest, while the rise in home loan commitments has been smaller than in other states, the report found.
ELIZABETH REDMANTWITTERSENIOR NEWS PRODUCER 
Source: https://www.domain.com.au/news/most-australian-capital-cities-likely-to-set-new-house-price-records-domain-forecasts-928462/